Well. Lest you think I have been resolved to the decision to strip rights away from more than half the US population, I am still outraged and still processing how best to be active in the struggle. Voting is always critical but there is a desire to do more. This is not meant to actually DO SOMETHING other than keep it at the forefront of my mind.
I saw a simple little pattern shared on Ravelry (but first spied on one of my knitting machine groups) for a little handmaid doll. The pattern is super simple.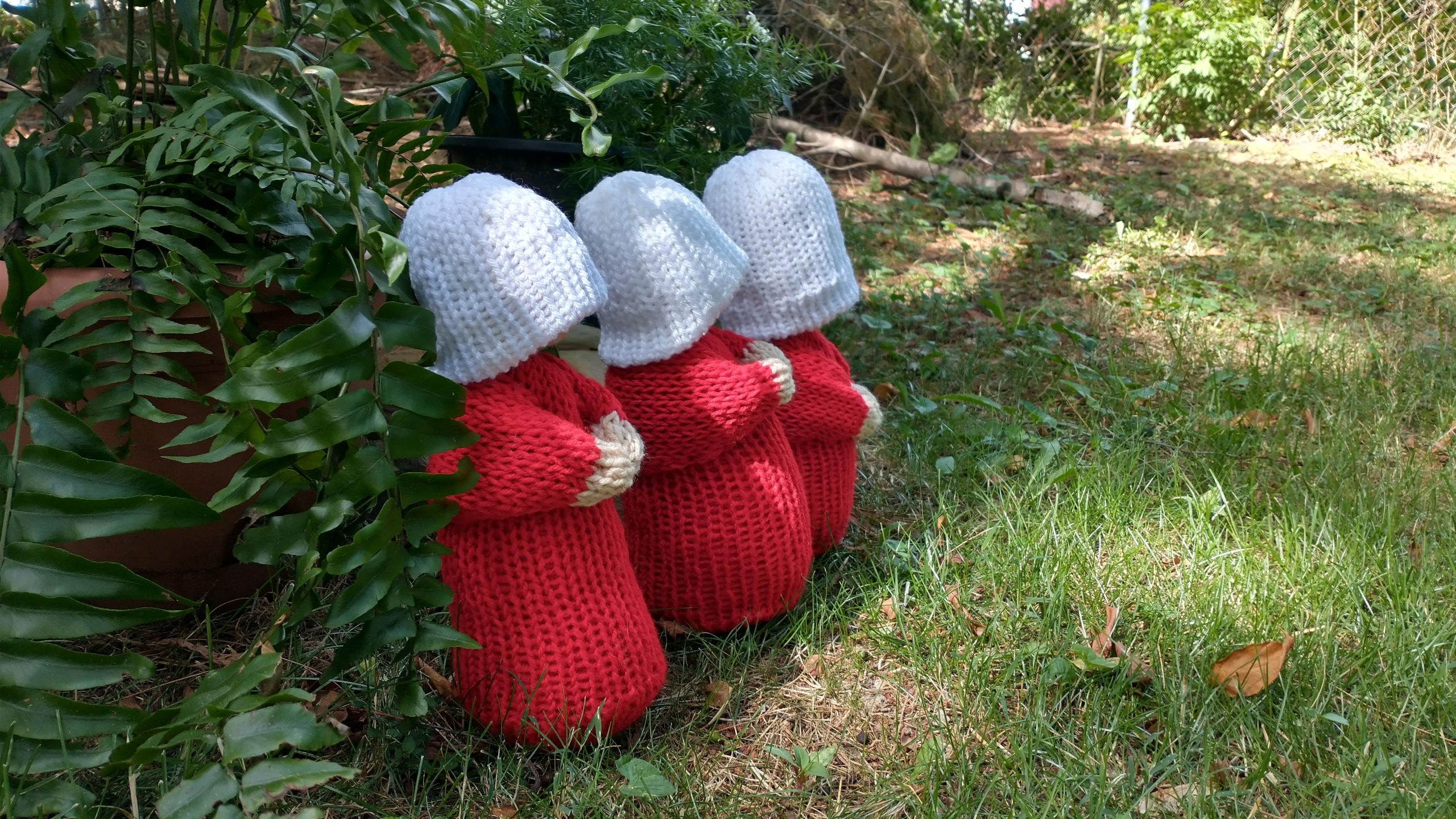 While the pattern is written for a knitting machine they are all easy tubes so totally possible to do in the round (or even as a flat piece you seam, if that is how you prefer to knit) so if you fancy having a go, I'd say do it. It's just body, arms+hands, hat and base.
My own version is slightly different, some changes were more successful than others (as usual) but even so I know what I need to do to correct where I went astray. The first thing is I would cut the disk of cardstock in the base from red card. I had a white one hanging about on my desk so I just used it. I like how it makes her stand easily but don't like you can see it. Might try to slip a Copic tip into the gaps and colour it
Also I wasn't super keen on the way the hat fit. I added a little bit of stuffing under the brim to give the hat more of the right shape and would need to figure out how to properly stick that in place in the future. I also left long tails so I could tie the hat at the back, again, more like the ones from the book.
You can see I maybe overstuffed her, so the arms are less floppy than in the sample photo, but I guess I am OK with that.
Overall I think she is fab and she will sit to remind me there is still a fight to be had. Back to arty farty stuff for WOYWW, after a bit of a tidy AGAIN. Yeesh.